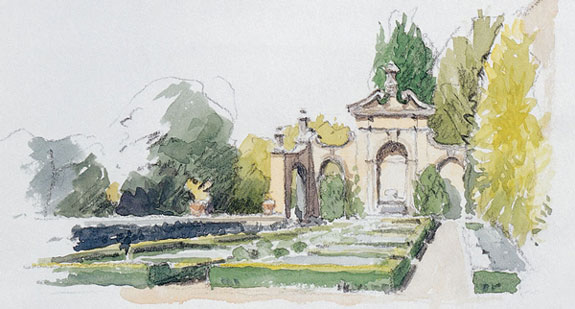 For many libraries, museums and art collections, it can be challenging to compile an oral history. The buildings may still be standing, documents may be present in abundance, and yet a history of the people who shaped a place, of major events and changes, as well as of daily life in the past, requires a strong and continuous personal element which in many cases is only partially present. That element has been fully present at I Tatti, and this fact on its own reveals something significant about the Villa and its history.
The story of the Villa, and of the Harvard University Center for Italian Renaissance Studies, has been consistently intertwined with the stories of numerous individuals beyond Berenson himself: from the scholars who have studied in the Library and walked in the gardens to the staff who have looked after them; from the farmers living and working on the estate to the curators of an astonishing archive, library and art collection; from the gardeners who have tended the historic garden to the Directors who with their families lived in the Villa and influenced its mission. It is such individuals who, both before and after Berenson bequeathed the Villa to Harvard, have helped give I Tatti its identity, and their continuing fidelity to the Villa, their unique and rich memories, are what make this oral history possible. Recording their voices is what allows the story of I Tatti from the 1930's onwards to be told—allows, indeed, that story to tell itself.
Anna Bensted August 2013


Memories of those who lived or worked at the Villa with Bernard Berenson.

Memories of those who were at the Villa as it was turned into the Harvard University Center for Italian Renaissance Studies.


An outline of some of the events and circumstances that have affected the Villa over the centuries. Watercolours by Steve Ziger (more about the artist on the Oral History Credits page)